Skip to end of metadata
Go to start of metadata
Sales Dashboard:
If you want to check the status of you ticket sales you can use the ticket Sales Dashboard. Just select the menu option "Sales Dashboard" and select the event you want to see you sales status for.
A quick overview of the total amount of sales and sold tickets will be shown.

If you want a more detailed overview of your ticket sales just scroll down. There you will see all your tickets and if you click on the ticket you will also see the price periods of that ticket so you
can see exactly how many ticket are sold per period.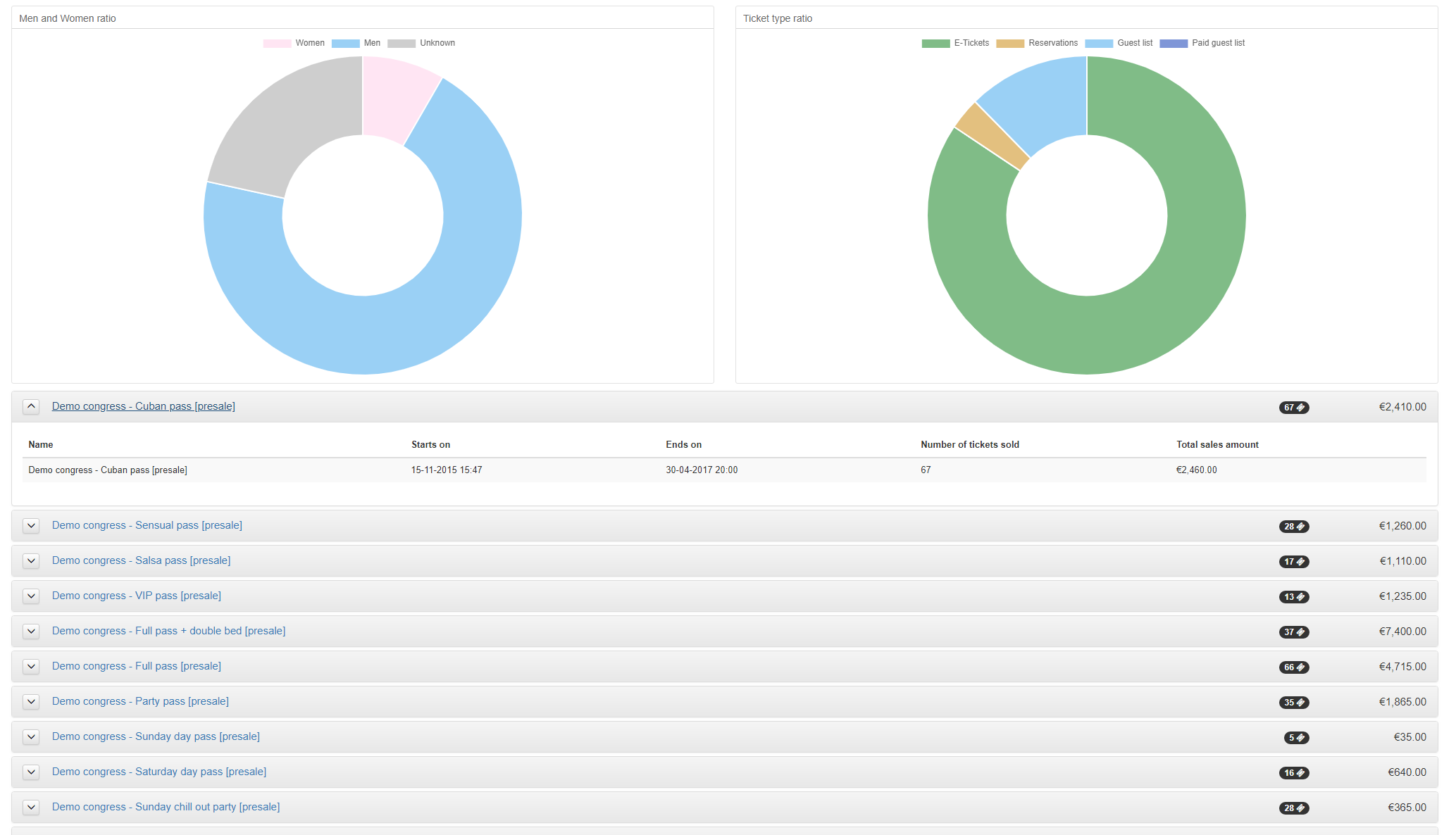 Payouts:
At Dizizid we have a weekly payout schedule with the beginning of the week starting on Monday. Weekly payouts are only advised for organizations that are part of the SEPA area. (Single Euro Payments Area).
These countries have almost no transaction costs for payments so a weekly payout is free for you as an organizer regarding transactions costs. If you do not have a bank account in a SEPA country, we do payouts on request. In this way we can keep the transaction costs charged by the banks for transfers low compared to the payout amount.
These countries are part of the SEPA area:
| | | | |
| --- | --- | --- | --- |
| Country/territory  | BIC | IBAN  | Currency code |
| Åland Islands  | FI  | FI  | EUR |
| Austria  | AT  | AT  | EUR |
| Azores  | PT  | PT  | EUR |
| Belgium  | BE  | BE  | EUR |
| Bulgaria  | BG  | BG  | BGN |
| Canary Islands  | ES  | ES  | EUR |
| Croatia  | HR  | HR  | HRK |
| Cyprus  | CY  | CY  | EUR |
| Czech Republic  | CZ  | CZ  | CZK |
| Denmark  | DK  | DK  | DKK |
| Estonia  | EE  | EE  | EUR |
| Finland  | FI  | FI  | EUR |
| France  | FR  | FR  | EUR |
| French Guiana  | GF  | FR  | EUR |
| Germany  | DE  | DE  | EUR |
| Gibraltar  | GI  | GI  | GIP |
| Greece  | GR  | GR  | EUR |
| Guadeloupe  | GP  | FR  | EUR |
| Guernsey  | GG  | GB  | GBP |
| Hungary  | HU  | HU  | HUF |
| Iceland  | IS  | IS  | ISK |
| Ireland  | IE  | IE  | EUR |
| Isle of Man  | IM  | GB  | GBP |
| Italy  | IT  | IT  | EUR |
| Jersey  | JE  | GB  | GBP |
| Latvia  | LV  | LV  | EUR |
| Liechtenstein  | LI  | LI  | CHF |
| Lithuania  | LT  | LT  | EUR |
| Luxembourg  | LU  | LU  | EUR |
| Madeira  | PT  | PT  | EUR |
| Malta  | MT  | MT  | EUR |
| Martinique  | MQ  | FR  | EUR |
| Mayotte  | YT  | FR  | EUR |
| Monaco  | MC  | MC  | EUR |
| Netherlands  | NL  | NL  | EUR |
| Norway  | NO  | NO  | NOK |
| Poland  | PL  | PL  | PLN |
| Portugal   | PT  | PT  | EUR |
| Réunion  | RE  | FR  | EUR |
| Romania  | RO  | RO  | RON |
| Saint Barthélemy  | BL  | FR  | EUR |
| Saint Martin (French part) | MF  | FR  | EUR |
| Saint Pierre and Miquelon | PM  | FR  | EUR |
| San Marino  | SM  | SM  | EUR |
| Slovakia  | SK  | SK  | EUR |
| Slovenia  | SI  | SI  | EUR |
| Spain  | ES  | ES  | EUR |
| Sweden  | SE  | SE  | SEK |
| Switzerland  | CH  | CH  | CHF |
| United Kingdom  | GB  | GB  | GBP |